Fall Garage Door Maintenance: What Should You Do?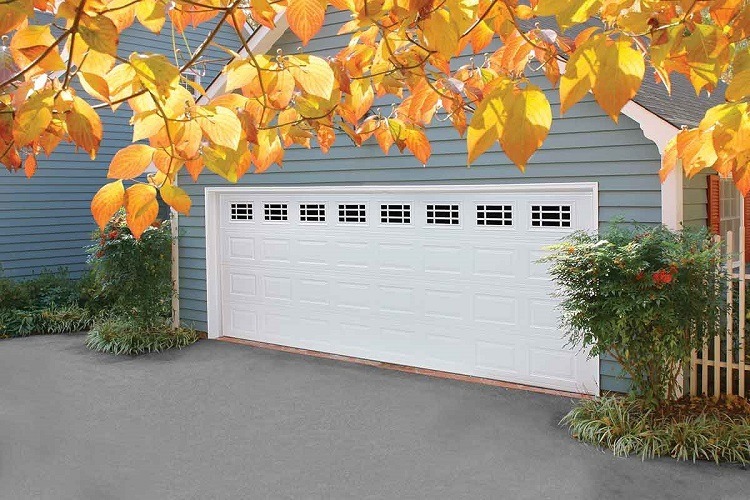 Unless you're a vampire, summer is a time of the year that most are sad to see come to an end, because it means that the cold, wet and windy weather is just around the corner. Each season brings about its own unique weather conditions and set of challenges for your garage door, and none are tougher than what we experience in winter. To ensure your garage door is up to this challenge, Fall is a great time of the year to do some maintenance and ensure your door is "battle-ready".
Below we're going to run through a number of things that we'd recommend you do based on our experience as garage door installation and repair specialists in Loveland. Our overhead door company has seen many a hard winter come and go and know what keeps garage doors functioning as they should.
Fall Maintenance Checklist for Your Garage Door
A lot of garage door maintenance is quick and easy to do, but it can pay off big time in the long run, helping to prevent the need for garage door repair. Here are the main things that we'd recommend you focus on.
Inspect and Clean the Garage Door
Your garage door likely opens and closes several times every single day. On top of that, it's all that stands between the elements and the interior of your garage, and acts as a protective layer 24/7. You might not notice it, but these roles can cause its condition to deteriorate little by little, and fall is a great time to look for any signs of damage and repair them.
So the first thing we recommend is to start by having a thorough inspection of the surface (both inside and out – but mostly outside) of your garage door. Metal garage doors can rust (this needs to be sanded, primed and painted), fiberglass doors can be cracked or split (panels may need to be replaced), and wood garage doors can warp (peeling paint should be removed, sanded and then repainted).
If you don't spot any damage, you should still give the whole surface a thorough clean down to remove any dirt and grime that has built up.
Check the Weatherstripping
You see the strip of rubber that is attached to the bottom of your garage door? It's not just there for show. Its role is to keep the cold and moisture out of your garage, as well as prevent any dust and dirt from being blown inside. Check that it's still in good condition. If it's worn in places, you will want to swap it out for some new weatherstripping, otherwise it won't be able to do its job properly.
It should fit tight to the door, floor and wall. With changes in temperature, it is prone to cracking. Even if it's in good condition, give it a good clean to prolong its lifespan and cope with the upcoming winter months.
Are the Garage Door Tracks Clear?
The tracks, which are found on each side of the door, help to guide your door as it moves from the closed to the open position. It's a good idea to check these, as sometimes debris can accumulate in them and prevent the door from opening and closing as smoothly as it once did. These tracks can also rust, and if this is not treated, operation will deteriorate and you may end up eventually having to replace them.
Are Your Overhead Door's Torsion Springs, Bolts or Other Hardware Loose?
As we've already mentioned, the average garage door opens and closes at least a couple of times each day. This amounts to hundreds of cycles over the course of a year, and the vibration produced by this process can result in bolts that secure garage door hardware loosening over time. So take a socket wrench and have a look at each of the bolts you can see to check whether they're loose. If you find one that is, tighten it up.
The brackets that fasten the tracks to the wall and the bolts securing the garage door opener to the frame are good places to check, as they do have a habit of working their way loose.
Add Lubricant to Moving Parts
A very easy way to improve the functioning of your garage door and extend the usable lifespan of key components at the same time is to spray them with some lubricant. If you hear lots of strange noises when opening and closing your garage door, this is a sure sign that this is overdue.
We'd recommend something like spray-on white lithium grease for rollers, hinges and other moving parts (don't forget to have a rag handy to clean up the excess). WD-40 is the better choice if any of these parts seem to be stuck.
A small amount of oil can be added to torsion springs to ensure they keep doing their job properly.
Additional Maintenance Tasks (Maybe Better Left to a Professional)
The list we've put together above includes items that mostly anyone could and should action before winter, but there are a number of additional maintenance tasks that are advisable, but slightly more technical. These things are better left to a garage door repair professional, unless you really know what you're doing.
These things include:
Inspecting garage door rollers and replacing any that are damaged.
Checking the condition of cables, pulleys and torsion springs, replacing if necessary.
Testing that the door is properly balanced.

If you need help with any of these things or would like us to take care of your fall garage door maintenance, we're always happy to help. We've serviced thousands of garage doors in the Loveland area over the past 30 years, and would love nothing more than to add you to our long list of satisfied customers.